Melvin and Etta Baham:  NOLA 2016
(HOME!)
New Orleans natives Etta and Melvin bought their Annunciation Street home in 1984. They raised their three children there and are now raising their grandchildren in the same house.  Melvin worked as a contractor and carpenter for over 50 years; Etta worked at BellSouth for 30 years. Both continue to give back to the city that they love through involvement at their church and volunteering in their community.
The chaos of their Katrina evacuation left the Baham family separated. Etta and her daughter drove to Texas before the storm escalated, while Melvin and his son chose to stay behind until they had no choice but to be rescued by boat and taken to the Superdome. It was close to a week before they were all reunited in Texas. After a year of stays in Texas and California, Etta and Melvin returned to New Orleans to face the tedious and emotional task of rebuilding their home.
The storm ripped off their roof, leaving all their belongings exposed to the wind and rain.  They used their Road Home funds to pay off their mortgage, which left them with very little to address the needed repairs. They hired a contractor to repair the roof and restore the interior, but like most of SBP's clients, Etta and Melvin experienced contractor fraud multiple times, leaving them in a continuous cycle of fixing the mistakes the contractors had made. Melvin's background as a contractor and carpenter gave him the skills to do some repairs on his home, but the lack of funds and his declining health left them with little progress to show.
In 2013, Etta suffered a freak spinal cord injury that left her paralyzed from the waist down.  Soon after Etta's paralysis, Melvin had his left leg amputated below the knee due to diabetes. Etta and Melvin are both wheelchair-bound.
The Bahams hired a contractor to make their home handicapped-accessible and to fix the lingering repairs from the storm.  Once again, the couple experienced contractor fraud and shoddy work; their savings were depleted, they were in an even worse position than before.  Then, about a year into Melvin's recovery, he was hit by a car and his rehabilitation had to begin all over again.
Etta, Melvin, their daughter and two grandchildren are currently crammed into two rooms of their almost gutted house on Annunciation Street.  They do not have proper appliances or walls to provide privacy in their bathroom and the home is not equipped for wheelchairs, making it dangerous for them to live.
Home is Etta's lifeline, and when she is able to finally share it with all her children and grandchildren she'll feel complete.
Lis Dregory:  NOLA 2016 (HOME SOON!)
New Orleans is the only real home Lisa Dregory has ever known. She grew up here, and in 2004, she purchased her own home in New Orleans East. Lisa wasn't rich in the traditional sense of the word, but she provided for her children and was content in the life she built for herself and her family. She worked for the Jefferson Parish School system as a cafeteria and bus aide, and she was happy.
When she moved back, Lisa received a FEMA trailer and moved it onto her property. This move was also short-lived: the trailer's formaldehyde levels were off-the-charts toxic – this was not a safe environment for Lisa and her children. The family had no choice but to move into a hotel, where they stayed until qualifying for Section 8 housing in nearby Slidell.
When she heard that Katrina was on her way, Lisa and her children immediately left town and stayed in a shelter in Lake Charles, LA for two weeks. They were desperate to leave the shelter but could not yet return to their devastated neighborhood. Lisa heard there might be housing available in Ohio, so off to Ohio they went. Ohio was a dead end, so the family eventually landed in Houston, where they stayed until 2007.
Slidell is just across the lake from New Orleans, but the distance made it difficult for Lisa to monitor the construction of her home. She has experienced contractor fraud multiple times as well as a forced mortgage payoff. Her requests for rebuilding assistance have been turned down repeatedly over the past ten years. She had almost given up hope when she found SBP.
In August 2015, due to her inability to attend a Housing meeting, Lisa and her children lost their housing voucher.She and her 3 younger children were were forced to move in with her 2 daughters and her daughter's baby. They are all living in a 2 bedroom apartment in New Orleans East. Lisa has been unable to work because her car is in need of repairs she cannot afford, leaving her unable to travel to Jefferson Parish School District where she works as a substitute para-educator.
Life has been challenging but Lisa remains hopeful.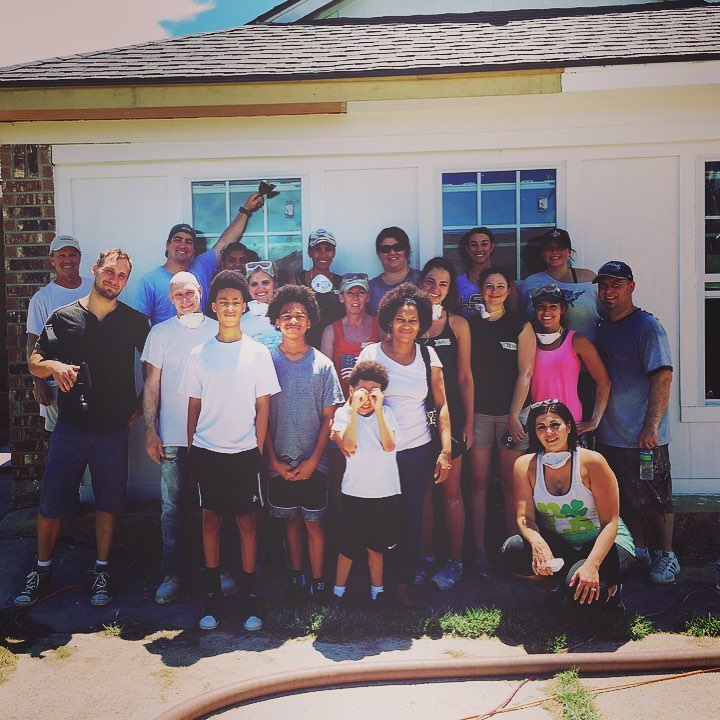 Keion Smith:  NOLA 2015  
(HOME!)
Keion Smith was born and raised in New Orleans. She bought her first home in 2002, when she was 25. Before Katrina, Keion worked full-time in the social services field while raising her then 6-year-old son JaQuan. She holds an associates, bachelors and masters degree in substance abuse and criminal justice. Keion and JaQuan left New Orleans when they heard Katrina was moving closer. They bounced from Baton Rouge to Dallas, and remained there for a year. When they finally made it back to New Orleans, Keion learned that her place of employment had shut down, JaQuan's school was closed, and she was left with an immense amount of water damage due to a destroyed roof and gaping holes in the siding of her home.
Keion soon found a new job as a social worker with Louisiana Spirit Hurricane Recovery and set about rebuilding her life and her home. She received money through the Road Home Program to complete the repairs to the inside on her home, but when she hired a contractor to elevate her home, he took her money and never completed the work. She spent months looking for the individual who was responsible for this terrible crime, but never found him.
In 2012, JaQuan found his mom in bed having a seizure. Keion was rushed to Ochsner Hospital, where she was diagnosed with a brain tumor. The doctors were hopeful that they could reduce the size of the tumor with medication instead of surgery and they were successful! Keion feels very lucky to have survived the trials over the past several years, and although she has been declared disabled to work, she is confident that she can provide a good life for her son.
When asked what home means to her she said, "Home means a sense of community. My son and I had that when we were in our home and we look forward to living an independent life where we are settled and can start giving back to others again."
Joshua Felix, Jr.: NOLA 2015 
(HOME!)
Joshua Felix, age 69, has owned his home in New Orleans East since 1996. He worked for the railroad and as a baker until a work-related injury forced him into early retirement. Joshua, along with his wife and daughter, fled New Orleans the Sunday before Katrina.
Four months later, Joshua returned to what still seems like a bad dream. His house had taken on ten feet of water. When the water receded, all that was left was three feet of mud and sludge, the lifeless body of his beloved dog, huge flies, and the stark reality that everything was lost. Determined, Joshua immediately began to clean up and set about rebuilding. He hired a contractor, who took his money and disappeared. He hired another contractor: same story. Frustrated and dangerously close to being broke, he moved into his (unsafe, not-at-all-habitable) house and decided he'd do the work himself until his money ran out. When SBP came to assess the damage to Joshua's home, they found floors with no coverings, water damage from a leaking roof,
and unsafe electrical and plumbing that was not up to code.
In 2014, Joshua's homeowners insurance threatened to cancel his policy unless he finished the work on his home. In fear of losing his home forever, Joshua contacted many agencies; they all turned him down. It wasn't until he was referred to SBP that he felt there was still hope.
Mr. Felix is divorced and lives alone, but his daughter and two grandchildren come over every day. He can hardly wait for his family to gather in a beautiful and safe environment. "I didn't know who to turn to, so I put this decision in the Lord's hands. It made me feel so good to meet people that care." Mr. Felix is looking forward to living in a whole, safe, completed home. "It will be nice to finally clean out my house and make it look more like a home again."
FULL GALLERY  –  VIDEO
Harold Bailey: NOLA 2014  
(HOME!)
Harold Bailey was only 17 years old when Hurricane Katrina destroyed the city that he had lived in his entire life. He was in his freshman year at UNO, studying business administration. Harold was also working at Pizza Hut, awaiting a promotion to store manager. He was living in in a multi-generational household with his parents, his brother, his aunt and his grandmother, who owned the home. He loved being surrounded by his family and was excited by bright future ahead.
Harold and most of his family left New Orleans 18 hours before the storm ravaged the city. His grandmother, however, insisted on remaining in the house – she did not want to leave. As the waters rose to over eight feet high, she was forced to flee to the top floor of the house. There she waited for four days until a boat arrived to rescue them. While Harold and the rest of his family were in Selma, Alabama, his grandmother was taken to the Danzinger Bridge and then the Convention Center. She expected busses to come but spent four more days in the sweltering heat, waiting.
In mid-October of 2005, Harold and the rest of his family returned to New Orleans. His mother worked for the City of New Orleans and so the family was housed on a cruise ship provided by the city. Immediately they began to try and rebuild, comforted by the fact that the top portion of the house was not damaged. It was quickly looted, however, and everything they thought they had to come home to was destroyed. All of the insurance money that Harold's grandmother received was forced to be given directly to the bank to pay the house off, leaving the family without enough funds to rebuild.
Today, Harold enjoys working as a maintenance professional at the Louisiana Department of Transportation. He's renting an apartment in Kenner – it's fine, but it's not home. Since the storm, his family has grown. In 2007, Harold's son Josh was born. In 2008, his wife gave birth to a second son, Hakeem. Hakeem was soon diagnosed with severe autism. Harold and his wife are no longer married, but they share custody of the two boys. Harold has waited a long time to come home. He's looking forward to providing a safe place for his boys to live, and providing a home for his grandmother.
Ms. Carmelita: NOLA 2013 
(HOME!)
Carmelita W. is a life-long resident of New Orleans' Ninth Ward. At the age of 18, she started working in her family's restaurant, Annie Mae's Diner on Florida Avenue. She worked in food service and hospitality until 2009 due to health reasons – Carmelita suffers from COPD and congestive heart failure. Before Hurricane Katrina, Carmelita kept busy raising her three children, helping to run the family business and looking after her parents. Her goal was to expand the
restaurant to make room for more customers who enjoyed eating at the popular soul food diner. Hurricane Katrina destroyed that dream – the diner was lost to the floodwaters, and her home was knocked completely off its slab.
Carmelita's experience during and after Hurricane Katrina was one of chaos. Initially she was staying in a hotel on the seventh floor but as the water got higher, she knew that it was time to leave. As she was leaving the hotel, the water was up to her neck; she and others were holding onto each other as they tried to get to
a truck that was headed out of town. Unfortunately, they were not allowed to leave the city and were forced to turn around and head to the Convention Center. "There, things got kind of hectic; the world had gone crazy. We were trying to keep our sanity and keep together—me, my son, my sister, my brothers, and their families."
The family was eventually able to leave New Orleans when Carmelita's niece arrived from Jacksonville, FL in a 24-passenger van. On her 48th birthday, Carmelita decided she couldn't stand being away from home any longer. She and her son packed a U-Haul and headed back to New Orleans, not knowing where they were going to live or go. She's living in subsidized housing in the Ninth Ward, but it's not the same – she's still not in the home where she raised her children.
Once Carmelita is back in her home, her hope for the future is to save enough money and put another diner on the corner of Florida Avenue where her family's diner once stood. Carmelita wants to be able to feed all of the people that have been helping her throughout her struggles in getting back to her home. "I know I'm going to be cooking in my little house and everyone had better come over and eat…keep my number in your phone…you're always welcome on a Sunday. I want to thank y'all from the bottom of my heart."
Ms. Cassandra: NOLA 2013 
(HOME!)
Cassandra represents the true spirit of New Orleans. Cassandra's home was build by Habitat for Humanity in 2001; before Hurricane Katrina she was living there with her five children, Antrell, 4, Juan, 4, Jerrianca, 9, Antoine, 9, and Paul, 11, her two brothers, husband, and three step-children. In Cassandra's words, "I have a big family and my house has always been the house where everybody goes." It was a home full of people, love and Cassandra's exceptional cooking.  As well as caring for her large family, Cassandra owned her own small business called Scotts Catering Service which catered various events- especially with her famous gumbo.
When the storm hit, Cassandra didn't have a working car to leave the city with. She pawned her computer in order to buy a starter for her car and drive everyone to Silver Creek, MS, where her uncle had a home. His house was already full, so Cassandra and her children stayed outside in tents, surviving off of generators. The family moved from Mississippi to Texas, where they spent a year with Cassandra's sister. Cassandra returned to New Orleans East in 2007, living in two FEMA trailers outside her home. There was not enough space for all eight children- they slept on tables and sofas. For Cassandra, "this was one of the most miserable times of my life. I had just lost everything and we were living in these tiny trailers- but at least I was home."
After two years in trailers, Cassandra and her family began renting a house and using their Road Home money to begin rebuilding. It took about a year for her home to be finished, but when Cassandra went to see the completed house, she found the front door kicked in and all of the electric wiring and copper plumbing
ripped out of her home. She was devastated, but determined to return home, and began rebuilding again.  Once the home was finished a second time, she decided to elevate the house so it would be protected from future storms. However, the elevation contractor left the door unlocked one night, and thieves came in again to smash open her walls and steal everything they could carry.
Seven years after the storm, Cassandra still refuses to hang pictures in the house she is renting now.  She feels like "if I start hanging pictures it's like I'm not trying to get home anymore." Today Cassandra lives with her chidlren as well as her teenage niece. -Even after all this time, "Being back home is the heaviest weight on my shoulders…I will feel more complete and my life can get going once again once we're home." SBP is honored to rebuild Cassandra's house and help her turn it back into a home full of family holidays and pots of gumbo that are still missed throughout the neighborhood.
Larry Carriere: NOLA 2012 
(HOME!)
Larry Carriere was born in 1948 in New Orleans and has spent his entire life in the city.  He spent more than 20 years working for AT&T until a sheet metal accident nearly severed his leg and left him permanently disabled in 1989.  Larry had lived at his New Orleans East home for more than ten years before Katrina, and he decided not to evacuate for the storm because his 84-year-old father did not want to leave.  Several terrible days after the storm, they were rescued by helicopter and taken to Louis Armstrong International Airport, then flown to North Carolina.
Larry's father returned to New Orleans to rebuild his home in January 2006.  However, Larry remained in North Carolina to fulfill his lease arrangement that FEMA was funding through November 2006.  Since his return, Larry and his granddaughters have moved from place to place while their father lived and worked in Houston.
Meanwhile, Larry did what he could to begin to rebuild. He replaced the roof of their destroyed home, did electrical and plumbing work, and hung sheet rock in many of the rooms.  He also bought some of the bathroom fixtures and other supplies, but his funds and resources were soon gone.
Until recently, Larry served as a caregiver for his father, who sadly recently passed away. Larry and his granddaughters are still living in his father's house while they wait for their home to be rebuilt. Now in his mid-60s, Larry was referred to St Bernard Project by a friend at his church and is now hopeful that he will soon be home with his two granddaughters.
Larry says that he is "forever grateful" for the generosity of SBP in helping restore his home.  To SBP staff, volunteers and supporters, he has said a heartfelt thank you for "giving me and my grandchildren a place to live again."
Shelley Rose: NOLA 2012 
(HOME!)
In 1956, Shelley's grandfather built the Rose family's home on Soniat Street. Shelley grew up on Soniat with her two sisters and, after a few years traveling around the world with her ex-husband, returned to Soniat Street to care for her mother and raise her children. Four generations have lived in the Soniat house and Shelley is determined to rebuild it so that a fifth may be raised there, too.
During her time away from New Orleans, Shelley lived in Kenya and Ethiopia, going wherever the Marines took her husband. Her daughter, Micah, was born in Kenya. She recalls in her travels how she met Mother Teresa in an orphanage. "She was so beautiful," Shelley says, and she was in such awe that she could not speak. Shelley went to kiss Mother Teresa's hand, but realized at the last moment that she was wearing lipstick and so pressed her forehead against the back of the Mother's hand. Teresa told her, "I'm going to pray for your family."
In 1996, Shelley divorced her husband and moved back to New Orleans with her children, Micah, 23, and Jamisen, 16. There they stayed until Katrina. They tried evacuating to Lafayette, but got lost on the way. Fortunately, they found themselves not far from a friend of Shelley's sister living in Busard. The friend picked the family up and they stayed together in a house with 18 other people.
In July 2007, just four months after her mother passed away, Shelley, Micah, and Jamisen moved back to Soniat Street to an apartment just across from their old home. They were the only family to return to the neighborhood. The roof had caved in and the back walls had collapsed on the house Shelley's grandfather built. They were able to repair much of the damage, but a dishonest contractor stole most of her money. Then, after they had put up a great deal of new drywall, they discovered the walls were infested with mold. Shelley works at an electric company, but does not earn enough to support her family and repair their home.
While living across the street from their ancestral home, the Rose family has grown. Shelley now has two granddaughters, Saniya, now almost two, and Ezri, who just turned one. They have big plans for the house. Jamisen will have his own room and the grandkids will have a backyard in which to play. They all look forward to the day when they can move back across the street. Back home.